That Restore The Look of Your Home!
Window Cleaning in Reno NV
Window cleaning isn't always an easy job, especially if you don't have the right equipment, or are not physically able to carry out the work. This is why hiring professional window cleaners is a great choice for you! Having a reliable, trustworthy, and hard-working company like ours do the job for you means you never have to worry. Our professional window cleaning in Reno NV offers the best and only service that you will ever need, giving you peace of mind, and windows that are left looking brand new - there is no other company that cares as much about your home's well-being as we do. What's more, not only can we clean your windows, we also offer a range of other services for your home!
Our Most Popular Services
Click Any Image To Learn About Our Services
We'll Restore Every Inch Of Your Property
More Squeaky Clean Services
Click Any Image To Learn About Our Services
We're Committed To Your Happiness...
Super Awesome Benefits For You To Enjoy...

Fast Quotes

Quality
Guaranteed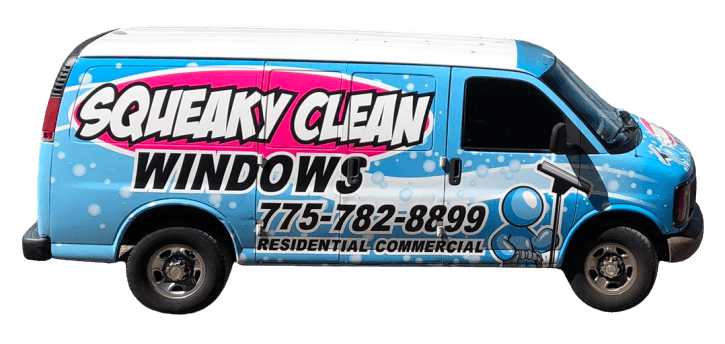 What Your Neighbors Have Been Saying...
Squeaky Cleaning is my go-to window cleaning contractor. Managing luxury property entails working with very particular owners and tenants. Will delivers 100% of the time, is excellent with people, is thoroughly responsive, makes (or usually exceeds) every commitment he makes and is a really nice guy. I can't say enough good things about Will and his crew. I promise you will not be disappointed!
Window Cleaning in Reno NV
I have used Squeaky Clean Windows for more than five years, and typically have them clean my residential windows several times each year. William is very responsive when I call, he and his crews have always done a fabulous job on my windows, they arrive on time and the cost is very reasonable. I Highly recommend them if you are looking for a company to get window cleaning service.
I have never had my windows professionally cleaned but had visitors coming this evening with no time to do them myself and decided to see if Squeaky Clean Windows was available. They were! They arrived mid afternoon and had the inside and outside windows completely clean and streak-free in a very short time. I was amazed! I highly recommend them and will be using them again. Thank you!!!
Ready To Have A Squeaky Clean Home?